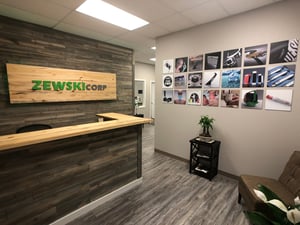 Welcome to our new offices. We moved last month and now have a beautiful new design space! Our new space includes seven offices, a new multimedia conference room, 2 kitchens and a welcome area for our guests.
In addition, we have more than 1,000 square-feet dedicated for our testing lab, prototype lab, and a 3D printer lab.
We look forward to having all of our clients come in and visit us where you will be greeted warmly by Angie and offered a refreshment of your choice while we brainstorm your idea into reality.